A sense of anticipation fills the air as many eagerly await a market bull run, yearning for a collective rise in asset values. In contrast, particular cryptocurrency enthusiasts are diligently seeking clarity on which assets to acquire and hold while awaiting the highly anticipated bull run. They want to know which assets will be the most trending coins when the time comes.
In the crypto market, it's a universal truth that opportunity is most potent when met with preparedness. Savvy investors understand this principle well, constantly on the lookout for assets worthy of inclusion in their watchlists. This is where DEXTools steps in to aid both investors and enthusiasts alike.
Stocks inched higher, while bond prices experienced a decline early on Tuesday, marking a continuation of last week's shift away from safe-haven assets. Market participants redirected their focus toward the promising outlook for corporate earnings and the resilience of the US economy, downplaying concerns related to Middle East tensions.
The STOXX 600 index in Europe saw a 0.25% rise, marking the second consecutive day of gains. Earlier in the day, Asian stocks had shown upward momentum, and on Monday, the S&P 500 closed with a 1% gain. This shift in sentiment was observed across the board, as indicated by the performance of indexes such as (.SPX), (.STOXX), and (.MIAPJ0000PUS).
Top Trending Crypto Coins on DEXTools
These developments marked a notable reversal from the previous week when global equities had experienced a decline, reflecting a risk-off approach among traders who aimed to reduce their exposure to uncertainties heading into the weekend when geopolitical developments could occur while markets were closed.
1. Liquid Protocol (LP)
The Liquid Protocol token, LP, is currently selling at $2.16, with a 24-hour trading volume of $373,873.38. This signifies a notable 35.74% price increase over the past day and an impressive 232.46% increase in the last seven days. This kind of increase rate is only common with top trending cryptocurrencies.
Liquid Protocol ( LP) is an enhanced liquidity lending solution. It provides investors with the assurance of profits from their cryptocurrency deposits, akin to traditional bank savings.
The platform operates in three key stages. The first is the Liquid from Treasury stage, where users access funds from the treasury, utilizing them as liquidity for ERC-20 tokens on the Uniswap V2 network.
In the second stage, Liquidity from Lenders, investors have the opportunity to provide funds and liquidity for others to borrow, earning a significant portion of the profits in the process.
Whereas, in the third and final stage, Liquid Market, Users can engage in buying and selling locked-in liquidity as a long-term investment.
The vision of Liquid Protocol is to extend liquidity to all blockchain investors, facilitating the release of various token types to the market. The platform is dedicated to transparency and fairness, openly disclosing information about the allocation of revenue among funds. It aspires to become a reputable and secure liquidity provider, placing user interests at the forefront and delivering genuine value to the community.
Very glad to hear that.$LP offers the first ever high ROI, no-risks, lending protocol, arguably of the space.

Our amazing community understands its value. We aim to become a standard for deployers, too, since deploying (without borrowing) in our platform accrues no extra cost. https://t.co/Ak1xhyta6V

— Liquid Protocol – ETH (@ProtocolLiquid) October 16, 2023
Critical features of Liquid Protocol include benefits when borrowing. The platform outlines a set of rules and benefits for users, including the absence of contract implementation fees, no money collection or customer taxation, secure smart contracts for developer tokens, and the necessity to select an initial lock-in period when borrowing. Borrowing costs from the treasury remain constant, but those borrowing from others will adhere to lender-specified terms and rates.
It also gives incentives for LP Token Holders. LP token holders are entitled to a share of the protocol's profits and exclusive privileges. The level of incentives corresponds to the number of tokens held, and the project organizes contests with enticing rewards for LP token holders. Furthermore, LP token holders participate in the platform's profit-sharing, with all tax reports published publicly to enhance transparency.
Liquid Protocol anticipates an annual growth rate of at least 150% based on the assumption of profits as low as 8% per month, underscoring the project's commitment to generating returns for its users.
2. Refund (REFUND)
As on-chain activities regain momentum, one of the latest stealth-launched tokens also making waves is Refund (REFUND), boasting an astonishing +1,000% surge. The driving force behind this surge appears to be the allure of Ethereum staking rewards, with REFUND gaining prominence amid the rising interest in "reflection tokens."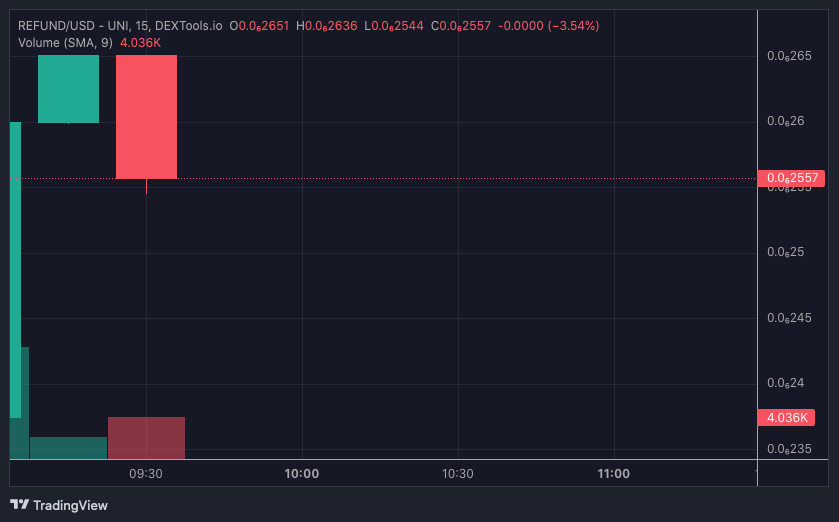 As the price action retraces and consolidates, REFUND is presently trading at a market price of $0.0000002371, marking a remarkable 24-hour change of +198.84%. Notably, a newly established support level at $0.0000002100 has provided a consolidation zone for the past 6 hours, indicating that price action has discovered a solid foothold, potentially triggering a significant upward movement.
This surge began shortly after REFUND's launch at 9 p.m. on October 14. The initial 24 hours of trading showed consistent growth, with a well-established lower support level at $0.00000061020. By 10 p.m. on October 15, approximately 25 hours into trading, REFUND reached a localized all-time high at $0.00000066120, which now serves as the upper target for price action.
Put the mask on, feel the power surge In this crazy world, it's a righteous urge Refund the hate, let the love converge
Mask on, well conquer, watch the doubters splurge. pic.twitter.com/RNgbFpNSvz

— $REFUND (@RefundCoinErc20) October 16, 2023
This remarkable run was accompanied by a trading volume exceeding $2 million in 24 hours, driven by a frenzy of over 7.9k transactions involving nearly 930 holders. With REFUND's market capitalization standing at $879.760, the outlook appears promising, especially considering that many similar reflection tokens have surged to $3 million in market caps in recent weeks.
This indicates that REFUND may still undergo a 2-3x increase from its current entry point if the price manages to break out of the localized descending trading channel. With the current situation, REFUND is on track to become the most trending cryptocurrency.
3. Mine Pioneer (MINEP)
Mine Pioneer is a newly introduced cryptocurrency that exhibited a remarkable surge of 350% on its first day of decentralized exchange trading, as reported by DEXTools.
Within the brief span since its launch, this token has seen trading volumes exceeding $800,000 while garnering the support of over 250 holders.
As of now, MINEP boasts a relatively modest market capitalization of $270,000, with liquidity amounting to just over $210,000.
$MINEP Token Launch –

CA: 0x44c837A2d8e34c5c91e80329E15d1b897343FDdD

*Fair launch, no presale
*Active Team
*Lock liquidity
*Mining integration starting next week
*For more details see the websitehttps://t.co/Qd0VmBXvpahttps://t.co/hcAisc8dQk

contact@minepioneer.pro pic.twitter.com/KcMghLx3gT

— Mine Pioneer $MINEP (@minepioneer) October 16, 2023
You should also note that DEXTools has raised concerns by issuing six token contract alerts related to MINEP. Therefore, potential investors are advised to exercise caution and conduct thorough research before considering involvement in this particular cryptocurrency.
What Might Be The Next Top Trending Crypto?
yPredict is a platform dedicated to tackling the intricate challenge of forecasting financial market dynamics, encompassing the volatile realm of cryptocurrencies. It accomplishes this task by granting access to data-driven insights, validated analytical metrics, and an ingenious prediction marketplace. 
🚀 Dive into the exciting world of crypto trading with #yPredict! 🤖

Our cutting-edge AI and machine learning tech empowers traders with invaluable insights for better-informed decisions and increased profit potential. Plus, we open doors for AI enthusiasts to monetize their… pic.twitter.com/ZtWFZVxJV6

— yPredict.ai (@yPredict_ai) October 17, 2023
This market place serves as a place where financial data scientists can market their predictive models, presented as a monthly subscription service. This unique approach extends a promising advantage to traders and investors, enabling them to gain a competitive edge in a market characterized by the increasing complexity introduced by sophisticated algorithms.
Within the yPredict ecosystem, the primary means of transaction and engagement are YPRED tokens. These tokens exhibit a comparatively low market capitalization and are characterized by a restricted total supply, amounting to a modest 100 million tokens. This aspect makes them an appealing prospect for individuals seeking investment opportunities with substantial room for price appreciation. 
Furthermore, yPredict's multifaceted offerings, including its data repository, analytics platform, and dynamic prediction marketplace, present inventive solutions for traders and investors striving to maintain a position at the forefront of evolving market trends.
The presale is now close to its $4.5 million target while still selling at the paltry sum of $0.1. Investors should get their share before the presale ends.
Visit yPredict.
Read More
New Crypto Mining Platform – Bitcoin Minetrix
Audited By Coinsult
Decentralized, Secure Cloud Mining
Earn Free Bitcoin Daily
Native Token On Presale Now – BTCMTX
Staking Rewards – Over 1,000% APY