Our previous list of Best Crypto to Buy Now has always provided investors with the information they require for healthy investments, especially as significant cryptos flounder.
XRP (Ripple's native token) experienced a 5% drop in value following the SEC's announcement. Polygon (MATIC), another altcoin, also saw a 5% decrease in its price. Polkadot's (DOT) coin declined by 4%. Binance Coin (BNB) experienced a 3% drop in its value. Solana's SOL token and Litecoin (LTC) decreased their prices by about 3%.
These declines indicate the market's sensitivity to regulatory developments and legal proceedings, highlighting the potential for significant price fluctuations based on news and announcements related to cryptocurrency projects and their legal status.
Best Crypto to Buy Now
Today's market leaves crypto enthusiasts and investors with more questions and answers. According to crypto news, digital assets took a beating and are an uncertain market. 
Global Crypto Market Cap Chart
However, such an occurrence is not rare, and investors can weather the storm by looking for the best cryptos to buy now. While we wait for things to improve, here are some tokens worth considering. 
1. Virtual Versions (VV)
VV Token serves as the central component of the VV ecosystem, facilitating the transfer of value within the ecosystem and offering users rewards and discounts for VV products and experiences. This native utility token, VV, plays a crucial role in various aspects of the ecosystem.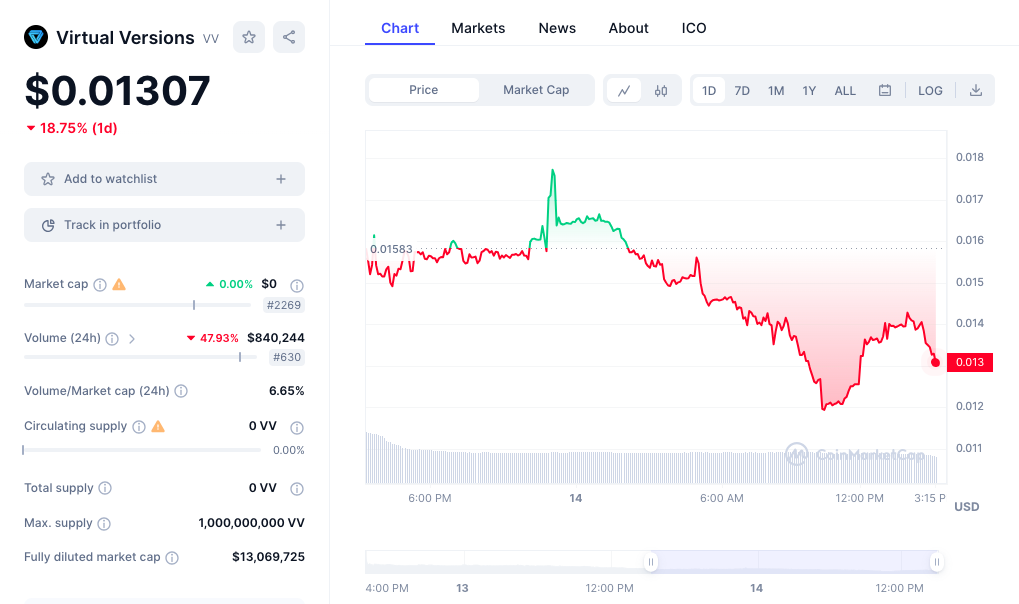 VV tokens enable access to virtual entertainment experiences within the VV metaverse, encompassing activities like concerts, museum exhibitions, and comedy shows. Additionally, users can utilize VV tokens to purchase wearable NFTs designed for avatars within the metaverse. VV tokens are also the primary currency for the Unus World metaverse, supporting transactions and interactions within this virtual environment. Furthermore, users can employ VV tokens for land-related transactions, including purchasing, renting, and building land in the metaverse to customize their digital environment. VV tokens contribute to constructing and managing users' Virtual Versions, serving as central hubs for their digital identities within the metaverse.
Besides VV tokens, the ecosystem offers various tools and features to enhance user experiences. These include an avatar creation tool, which swiftly generates a digital representation of users within the metaverse using the mobile app. VV also provides an interoperable identity solution to enable seamless navigation of the metaverse.
Contract Address (VV):
0x5c39ef4bda89a9D7EDB18A16E53c97D5D32245F6

These are the only official LPs.

Bybit: (VV/USDT)https://t.co/bdAYgNGHqL

MEXC: (VV/USDT)https://t.co/tbUgNZDJPh

Uniswap: (VV/USDT)https://t.co/0ctGpOk3FH

Pancake swaphttps://t.co/q1r2Dp1QRB

Buy VV with… pic.twitter.com/TsYnTuPSsf

— Virtual Versions (@virtualversions) September 12, 2023
VV Social is the central hub for users' digital identities and acts as a portal to access virtual worlds and experiences. The Unus World metaverse, constructed with Unreal Engine 5 (UE5), offers a gamified entertainment experience with diverse entertainment options and interactive activities. Lastly, users can manage their digital identities and VV tokens through the identity wallet, ensuring enhanced security and control over their assets and profiles.
In summary, VV Token and the VV ecosystem aim to create a comprehensive and immersive virtual experience, allowing users to engage with various forms of entertainment, construct their digital identities, and interact within a dynamic metaverse.
2. MemeStation (MEMES)
Next on our list of best cryptocurrencies to buy now is the MemeStation token.  MEMEStation is pioneering as the first Ethereum network dedicated to memes with a global impact. It offers a unique platform where users can easily create, enhance, and share meme content, featuring a built-in Meme, GIF, and Video editor for all meme enthusiasts.
In today's digital landscape, to make significant strides in onboarding mainstream individuals into the world of blockchain and Web3, the focus needs to be on integrating with social media platforms and attracting users from Web2 to Web3. As a cultural phenomenon, memories present a prime opportunity for this integration. They are universally shared, embraced, and enjoyed across the globe, representing a form of entertainment that transcends boundaries and judgments.
People spend an average of 3.5 hours daily on social media networks, often needing tangible benefits. MEMEStation aims to challenge the conventional notion that users are merely products. Instead, its mission is to empower everyone, regardless of their follower count, with the potential to earn money through their activities on social media. This paradigm shift involves introducing a Meme-To-Earn model, establishing a next-generation NFT marketplace, and offering various monetization avenues. MEMEStation strives to reward users for their time spent on the platform while providing an engaging and gamified user interface for an enjoyable experience.
The first utility will be ready very soon. A launchpad only for meme tokens with 0% tax ! I cant tell you more but will you understand from the video. Enjoy ! pic.twitter.com/9COcGGz4YL

— Memestation (@Memestationeth) August 31, 2023
In summary, MEMEStation is poised to revolutionize how people engage with memes and social media by offering a platform that facilitates meme creation and sharing and empowers users to monetize their social media presence, all within an immersive and gamified environment.
3. SonicBOT (SONICBOT)
SonicBot is where DeFi trading meets the need for speed and precision. In the realm of Telegram sniper bots, SonicBot stands out with its distinctive fusion of meme culture and cutting-edge functionality.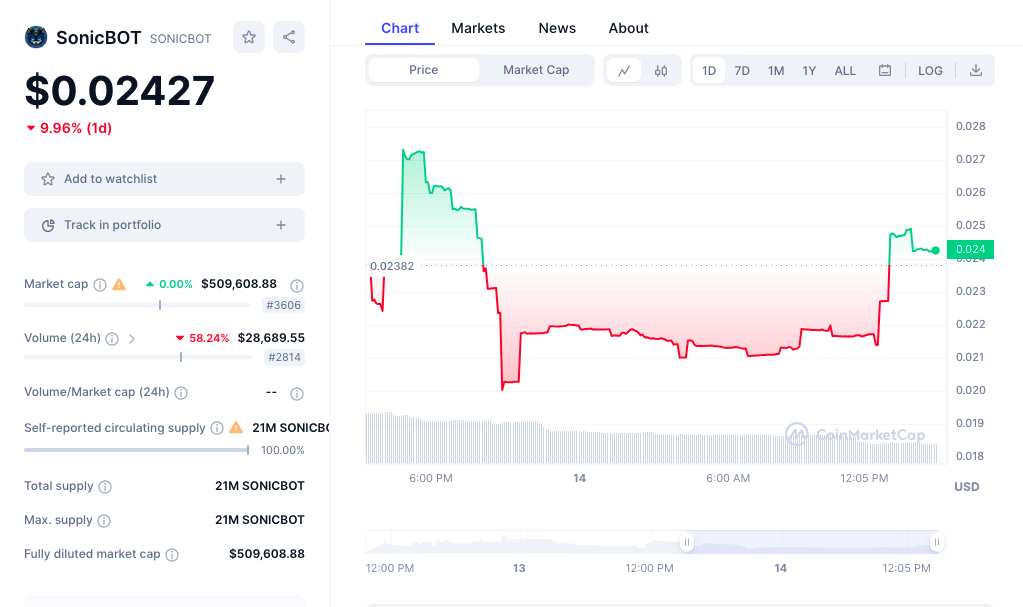 At the heart of SonicBot lies TurboRPC, a proprietary technology that redefines the landscape of DeFi trading. TurboRPC establishes direct connections with miners, guaranteeing transactions that are not only ultra-fast but also private. Are you prepared to leave your competitors in the dust?
SonicBot transcends the realm of your typical Telegram bot; it signifies a revolution in DeFi trading. Crafted to cater to meme aficionados and serious traders, SonicBot combines entertainment and utility.
We can confidently say that we have built the fastest, most reliable Telegram trading bot, but we will not stop here.

We are now working on perfecting our sniper and making it, the fastest, most accurate sniper on the market.

We are the only ones with a 0% fee for holders! pic.twitter.com/LbnWsnZmvY

— SonicBOT (@sonicboterc20) September 3, 2023
What truly sets SonicBot apart is TurboRPC. While most bots rely on standard RPCs, SonicBot's TurboRPC takes the road less traveled by connecting directly with miners. This direct channel ensures transactions of lightning speed, granting you a significant advantage in the fiercely competitive DeFi market. Moreover, TurboRPC prioritizes privacy, safeguarding the confidentiality of your trades. The icing on the cake? Exclusive access to TurboRPC is reserved solely for $SONICBOT holders. So, whether holding, trading, or seeking to outpace the competition, SonicBot is your turbocharged ally in the DeFi universe.
4. NexBox (NEXBOX)
NexBox is not just another cryptocurrency platform; it's a commitment to ensuring your crypto assets are secure and easily accessible. In this digital age, where the importance of crypto security cannot be overstated, NexBox takes a multi-faceted approach to safeguard your holdings.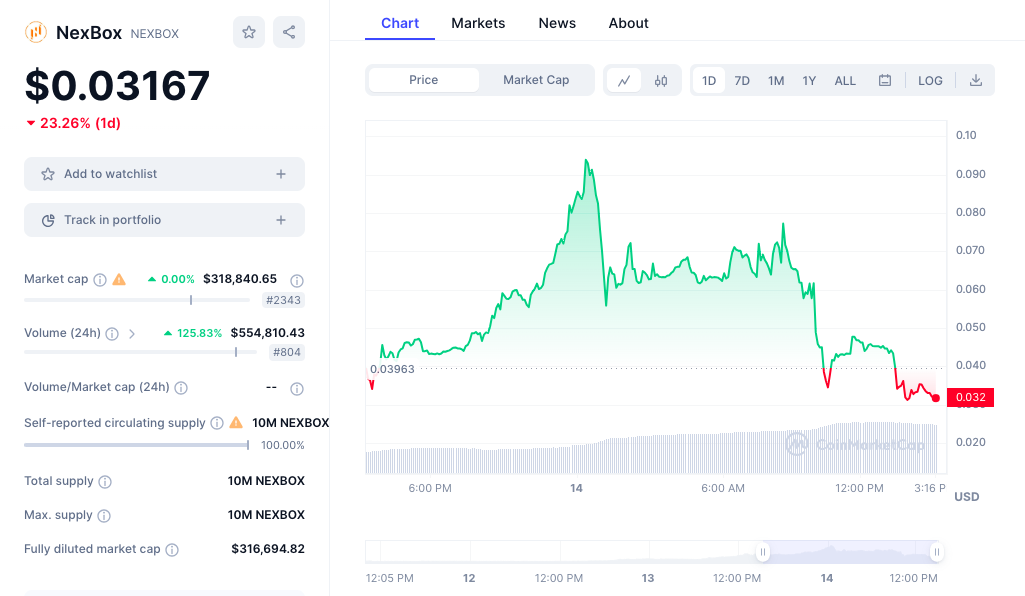 Beyond its cutting-edge technology, NexBox thrives on transparency and community collaboration. As we delve deeper into what makes NexBox stand out, you'll discover its unwavering dedication to simplifying crypto transactions, empowering users, and embracing the crypto community's collective potential. Join us on this journey where security meets accessibility, and together, we navigate the ever-evolving world of cryptocurrency with confidence and ease.
5. Launchpad XYZ (LPX)
Launchpad XYZ is making waves in cryptocurrency, and its presale has nearly reached the impressive $1 million milestone. This significant achievement speaks volumes about its growth potential and investors' trust in its prospects. Currently priced at $0.0445 during its presale phase, this promising project draws more investors who want to get in before its listing on exchanges.
At the heart of Launchpad XYZ is a user-centric approach. Its whitepaper underscores its commitment to empowering traders with the essential information they require to make informed decisions about buying and holding crypto assets. By providing real-time data and insights into market sentiment on various assets, the platform serves as a valuable resource for today's traders.
Tired of juggling multiple platforms for cross-chain trades? 😪

Simplify your whole experience with one click at #LaunchpadXYZ

Learn more at https://t.co/ZUZaIKgy84
#Web3 #Crypto #Blockchain #Ethereum pic.twitter.com/xKEKmc16X7

— Launchpad.xyz (@launchpadlpx) August 16, 2023
Launchpad XYZ is a perpetual decentralized exchange that enables traders to hedge their stakes effectively, minimizing their exposure to sudden market fluctuations. This risk management feature sets it apart as a platform prioritizing its users' financial security.
Furthermore, Launchpad XYZ is staying ahead of the curve by tapping into the booming NFT market. It hosts a marketplace where NFT creators and collectors can connect and conduct business. Additionally, the platform offers exclusive deals for those who list their stakes, providing even more incentives for community members.
The growing interest and demand for Launchpad XYZ's unique features are driving its presale to sell out rapidly. Investors who recognize the potential of this platform have a prime opportunity to join the community and seize its advantages. Take advantage of what could be the next big cryptocurrency poised for explosive growth.
Read More
Ends Soon – Wall Street Memes
Early Access Presale Live Now
Established Community of Stocks & Crypto Traders
Featured on Cointelegraph, CoinMarketCap, Yahoo Finance
Rated Best Crypto to Buy Now In Meme Coin Sector
Team Behind OpenSea NFT Collection – Wall St Bulls
Tier One Exchange Listings September 27
Tweets Replied to by Elon Musk