The new meme token in the crypto market, This is Fine (FINE), has trailed dramatically since the start of September. From its launch date, September 7, FINE has seen price fluctuations.
Today, September 13, at 6:32 a.m. EST, the coin is trading at $0.00000001771, lower than its closing price on September 12.
This price trend confirms the volatile phase of FINE, suggesting potential dips in the coming days. On the other hand, the asset's trading volume over the last 24 hours is above $3.64 million.
FINE Is Red Today – What are the Indicators Suggesting?
FINE is a unique meme coin with a revolutionary burning mechanism that aims to create scarcity and trigger price growth over time. 
However, today, the coin's value is declining and could lose more, but assessing its technical indicators could help determine FINE's next move in the short.
FINE/WETH Pair
FINE's red candle stick formation below the critical 20-day moving average shows the increased selling pressure in the market within the last 15 minutes. If the dip continues as more sell trades are recorded, the coin could face an oversold market condition in the coming days.
Its Relative Strength Index (RSI) is at 49 and is moving down. This confirms the increasing selling momentum in the coin's market, projecting a further price dip to the oversold region (below 30). 
Again, FINE's Moving Average Convergence Divergence (MACD) is below the signal line and has a bold red histogram bar. This shows the strengthened bearish momentum on the coin's market today. Given the signals on these indicators, FINE could go as low as $0.000000016 in the coming days.
FINE to Test Support Level Shortly – Will The Price Bound or Fall Further?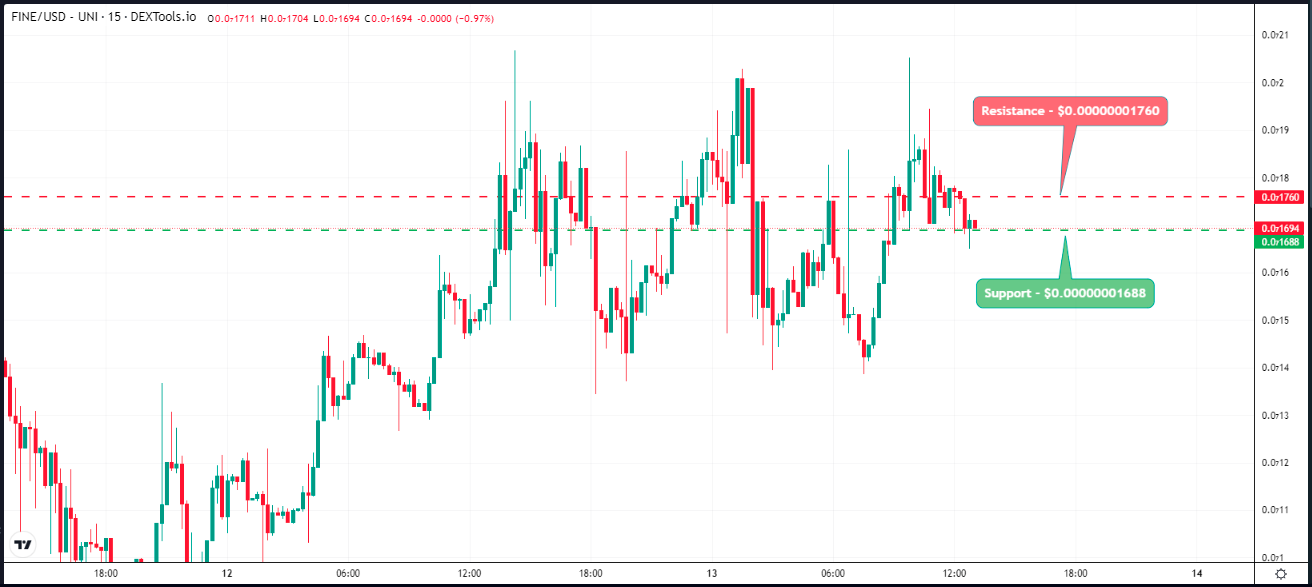 FINE is trading very close to its support level at $0.00000001688 and has resistance at $0.00000001760. With the coin's price approaching this support level, investors may enter the market at this low price to buy more FINE, triggering a price rebound. 
But if it breaks below, the coin could continue its downward trend.
On the other hand, considering FINE's resistance level at $0.00000001760, its potential for a short-term price rally is high. Breaking above this resistance could trigger a bullish trend, potentially leading to further price appreciation.
Meanwhile, traders should closely watch FINE's support level while making trading decisions considering its mixed signals. Advisably, strategic trade setups should be used to make the most of this situation. 
Wall Street Memes presale is still ongoing, currently in its final stage
Throughout the summer, when cryptocurrencies started seeing negative performance, crypto buyers seeking opportunities turned to coins and tokens holding their presales. FOOM users might do the same, as Wall Street Memes (WSM), the most popular meme coin presale of the summer of 2023, is still available for purchase.
Wall Street Memes is a meme coin inspired by a subreddit called WallStreetBets — a Reddit hub for amateur investors who like to take risks and discuss various investment opportunities, strategies, and more. The subreddit grabbed the world's attention when it engaged in a massive stock purchasing campaign in early 2021 to stand against institutions that shorted those stocks to make a profit.
Their moves threatened to ruin the companies, so amateur investors boosted their prices. They were pretty successful, and now the meme coin bearing their name serves as a lasting reminder of the event. The project has raised over $25 million during its presale and is in its final stage. The token, WSM, is available for $0.0337 and can be bought with ETH, BNB, USDT, or credit card.
Related Articles
Ends Soon – Wall Street Memes
Early Access Presale Live Now
Established Community of Stocks & Crypto Traders
Featured on Cointelegraph, CoinMarketCap, Yahoo Finance
Rated Best Crypto to Buy Now In Meme Coin Sector
Team Behind OpenSea NFT Collection – Wall St Bulls
Tier One Exchange Listings September 27
Tweets Replied to by Elon Musk