ERC-20 tokens trend for several reasons. These tokens are utility assets serving various specific and collective purposes. Investors not hedging with stablecoins look to ERC-20 tokens for a shot at a portfolio boost. We have covered some of these trending projects in the past. 
Over the weekend, Bitcoin (BTC), the world's oldest and most valuable cryptocurrency, dropped below the $26,000 mark, signaling a negative sentiment in the overall cryptocurrency market. This decline is attributed to reports that FTX, a troubled crypto lending platform, is considering liquidating its crypto assets worth $3.3 billion.
This negative sentiment had a cascading effect on popular altcoins like Ethereum (ETH), Dogecoin (DOGE), Ripple (XRP), Litecoin (LTC), and Solana (SOL), which all experienced declines. On the other hand, Stellar (XLM) was the biggest gainer, with a 24-hour increase of over 3 percent, while the meme coin Pepe (PEPE) was the biggest loser, with a 24-hour drop of around 8 percent.
On the back of this development, liquid staking is the best bet for investors, and they can look to the most trending crypto projects for this software solution.  
Most Trending Crypto Today – Top List
The effects of the volatility of cryptocurrencies are only cushioned by careful and informed investing. Our top trending crypto list is a well-researched highlight of the popular cryptos on exchanges, especially DEXTools. 
Look at the tokens making a buzz today for your portfolio and watchlist.
1. Linq (LINQ)
LINQ's mission is to usher in a new era of interaction, engagement, and transactions in the world of decentralization. Their platform is an innovative hub, integrating blockchain and cryptocurrency to offer diverse experiences in decentralized finance (DeFi) and social media. Each aspect of their ecosystem is designed to provide users with unique and enriching experiences.
$LINQ token staking is coming soon. 2,000% APR when #STAQING opens. pic.twitter.com/Ot6Z8Q2JJ4

— LINQ (@linq_group) September 7, 2023
Within LINQ's ecosystem, users will discover a range of DeFi solutions tailored to unlock opportunities beyond traditional financial systems. Simultaneously, LINQ encourages the exploration of vibrant social media communities, fostering connections and interactions. Their ultimate goal is to seamlessly merge the realms of DeFi and social interaction, revolutionizing how users navigate the decentralized frontier.
LINQ represents a paradigm shift in technology and innovation. Their philosophy centers on the belief in collaboration and decentralization as transformative forces, harnessing blockchain technology and cryptocurrency to create a secure and interconnected ecosystem.
2. FeatherCoin (FTC)
As FeatherCoin's native token, FTC was created to encourage utility and engagement within its ecosystem. Launched in early 2013, FeatherCoin strongly emphasizes security and user-centric features. The project regularly updates its wallets to align with the latest Bitcoin core releases, ensuring a secure and up-to-date user experience.
FeatherCoin offers a convenient means of transacting through its mobile wallet, particularly within decentralized finance (DeFi). The mobile wallet is designed to provide easy access to users' FTC holdings and facilitate seamless transactions, enhancing its utility as a medium of exchange.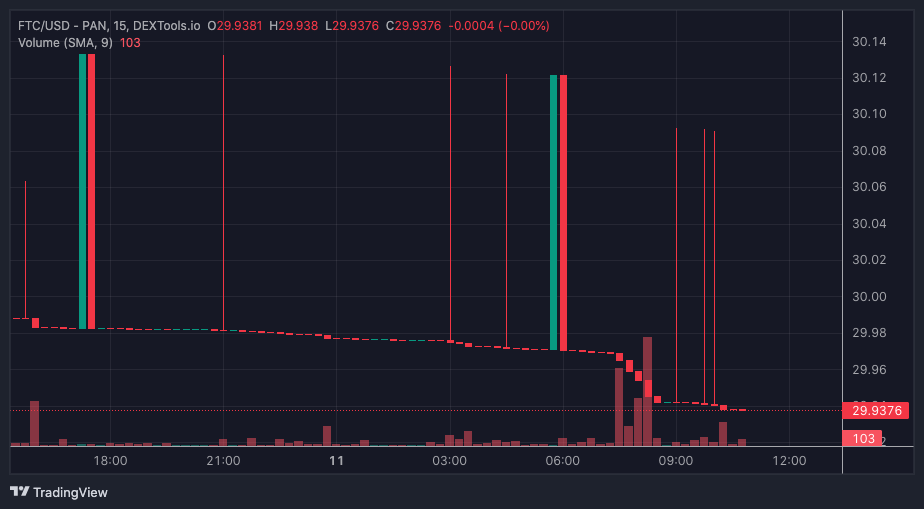 One of the notable features of FTC is its affordability in terms of transaction fees. The token's structure eliminates the need for merchants to pass on transaction costs to customers, making it an efficient and cost-effective choice for both merchants and customers. Additionally, transactions on the FeatherCoin platform are claimed to be swift and near-instantaneous, improving the overall user experience.
A gentle reminder to the #cryptocommunity 🚀

The #feathercoin 🪶second #halving ⛏️will happen in just 1 month.

Join us on Telegram to follow the latest news from inside our community driven #altcoin.https://t.co/qpDsuKt140$ftc #ftc #bitcoin #altseason pic.twitter.com/AmKdN3u6IC

— Feathercoin (@Feathercoin) September 25, 2021
FeatherCoin (FTC) has garnered attention as a trending cryptocurrency with a unique acquisition process tied to mining. This digital asset is designed to be appreciated faster than Bitcoin, making it appealing to crypto enthusiasts. 
3. HEX (HEX)
HEX is distinguished by its mechanism designed to encourage holding and discourage actions that could diminish its value. Users can stake their HEX tokens, which results in the issuance of new tokens as rewards. Validators are incentivized to maintain their stakes for the intended duration, and those who prematurely end their stakes may face penalties. Furthermore, the reward structure benefits those engaging in longer and more substantial stakes.
https://t.co/Ywomnycnn8 might be the best opportunity of your life. HEX is designed to go up over 10,000x in only 2.5 years. HEX is FREE for Bitcoin holders! #Ethereum can be transformed into HEX. Imagine you could buy #Bitcoin for $1 in 2011. Don't miss that chance again! #ETH

— HEX.com 40% APY & 3866x price in 558 days!⬣🚀🌘 (@HEXcrypto) December 27, 2019
HEX tokens can be obtained through various methods, including exchanging Ethereum tokens (ETH) for HEX. However, this exchange option is available only during the first year following HEX's launch. HEX tokens are distributed to Bitcoin holders during the same one-year period, with 1 Bitcoin corresponding to 10,000 HEX coins.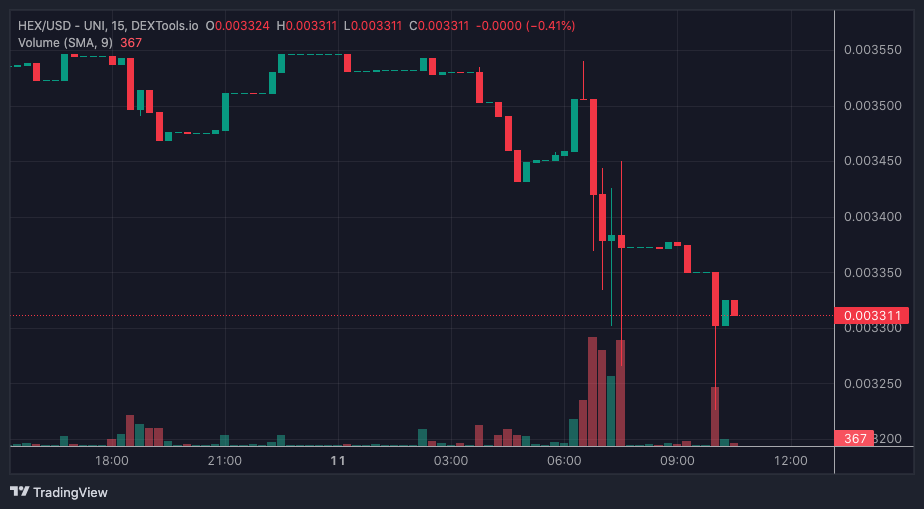 HEX's economic model introduces a 3.69% annual inflation rate after the first year, contributing to the controlled management of its token supply and helping to maintain its value over time. This intricate combination of features positions HEX as a unique asset within the cryptocurrency landscape, leveraging the capabilities of the Ethereum network to provide both value storage and decentralized finance (DeFi) functionality.
4. Test (TEST)
The accidental creation of the TEST token led to its adoption by a user base despite the initial intention for it not to be bought. To accommodate the growing interest, the development team created a smart contract for the token, enabling its functionality within the crypto ecosystem. Subsequently, additional decentralized finance tools were developed to enhance the user experience.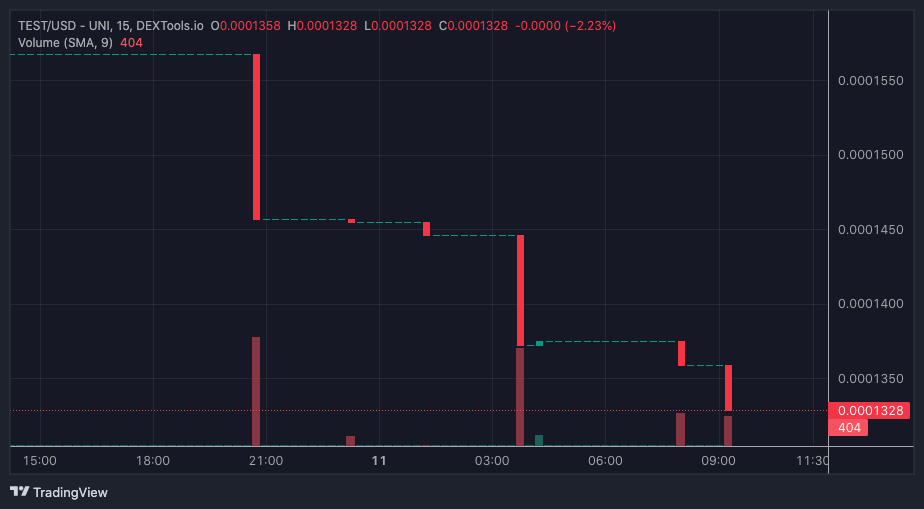 The TEST token operates on the Binance blockchain with a 12% slippage. Transactions involving the token incur a 12% tax, with 9% of the tax allocated to the platform's liquidity pool and the remaining 3% redistributed to TEST token holders.
$TEST – we stand united in our adoration of our accidental hero. pic.twitter.com/dWlPp5ayjd

— TEST.ETH (@Test4Chan) August 1, 2023
What Might Be The Next Top Trending Crypto?
In the dynamic world of cryptocurrency investments, timing can often make all the difference. The presale structure of Launchpad XYZ has been meticulously crafted to encourage early participation, offering a compelling incentive for those who grasp the potential of LPX tokens. 
Get deeper insights with advanced analytics and make smarter trading decisions today!

Don't sleep on $LPX ⤵️ https://t.co/VP1YsOx6jB#LaunchpadXYZ #Web3 #Altcoins pic.twitter.com/jMA8X8qZYC

— Launchpad.xyz (@launchpadlpx) September 10, 2023
While it's true that the initial stages may offer the most attractive rates, it's essential to recognize that opportunities abound for investors joining the journey at various points. As LPX tokens prepare for their debut on cryptocurrency exchanges, the potential for substantial returns on investment becomes a tempting prospect, ensuring that the excitement of this project extends to investors across a spectrum of entry points. The future is promising, and the potential for new heights awaits as LPX occurs in the crypto market.
Launchpad XYZ is a beacon of innovation, offering a sophisticated early warning system that keeps users ahead of the market curve. With a wealth of data, this platform equips users with the tools they need to navigate and thrive in the crypto market. The promise of remarkable gains through precise trend predictions has resonated strongly with the crypto community, evident in the resounding success of the LPX token presale. 
With over $1.3 million raised, LPX is set to become a pivotal element of the Launchpad XYZ ecosystem, granting access to its invaluable offerings. As we look ahead to 2023, the stage is set for LPX's explosive growth, driven by its universal appeal and the unwavering commitment of the Launchpad XYZ team to redefine cryptocurrency trading.
The carefully crafted presale strategy of Launchpad XYZ serves as a testament to its commitment to fair and inclusive participation. The platform encourages early involvement by offering incremental price increases across each presale stage while extending opportunities to latecomers. This dynamic approach recognizes that the growth potential extends beyond the presale phase.
Read More
Wall Street Memes – Next Big Crypto
Early Access Presale Live Now
Established Community of Stocks & Crypto Traders
Featured on BeInCrypto, Bitcoinist, Yahoo Finance
Rated Best Crypto to Buy Now In Meme Coin Sector
Team Behind OpenSea NFT Collection – Wall St Bulls
Tweets Replied to by Elon Musk