Tamadoge, a play-to-earn (P2E) meme coin, is making waves in the crypto industry. With only seven days left until the announcement of which top-tier crypto exchange Tamadoge will be listed, crypto watchers are eagerly waiting for clues. While the actual listing takes place on 27/04/2023, the announcement will be made on 24/04/2023.
🚀 TOP 5 EXCHANGE LISTING🚀

Only 7 DAYS LEFT until our tier 1 #Exchange #Listing announcement!

Stay tuned!#Crypto #ExchangeListing #TokenListing #Listing pic.twitter.com/8UsqvpeqaQ

— TAMADOGE (@Tamadogecoin) April 17, 2023
The team has conducted a poll on Twitter, asking the community which exchange they think it will be. The poll shows Binance is the frontrunner, attracting 64% of the 1,000+ voters taking part. 
🚨🐶 Can you guess which Tier 1 exchange Tamadoge will be listed on?

🤔 We're excited to reveal our big news on April 24th!

Don't miss out @elonmusk #TamadogeListing #CryptoCommunity

— TAMADOGE (@Tamadogecoin) April 17, 2023
The play-to-earn (P2E) games platform Tamadoge (TAMA) has a utility-first approach, which makes it stand out from the crowded meme coin field. Tamadoge has developed its gaming product, launching five arcade games in its short life. The games have received positive feedback from community reviewers, who say the games are crazy addictive. Analysts predict that the price momentum will accelerate leading up to and after the listing.
Tamadoge Outnumbers Decentraland and The Sandbox Combined in Unique Monthly Players
The arcade games have garnered more unique monthly players than most top projects, such as Decentraland and The Sandbox. Based on data from DappRadar, Decentraland, a project with a market capitalization of $1.2 billion, has had 4,550 unique active wallets in the last 30 days. Another top project, The Sandbox, which has a market capitalization of $1 billion, has had a total of 6,730 unique active wallets in the past month.
Tamadoge has approximately 22,000 players currently testing their skills in the arcade. The figure is quite impressive for crypto gaming. This figure is higher than the number of unique active wallets on Decentraland and The Sandbox combined.
The project has recently appointed a community manager. Tom Harper, who addressed usability issues. Additionally, Harper introduced the new user sign-up flow to create a frictionless system for getting people playing in web3 gaming. According to Harper, many visitors want to play but give up on the crypto wallet connection pain point.
Harper spoke about the "most critical thing that Tamadoge has done so far—introducing the new user sign-up flow."
He added, 
"We are leading the way in creating a frictionless system in getting people playing in web3 gaming. Now that you can join with just an email, it opens up the Tamaverse to everybody."
TAMA Overcomes Resistance – Price Set to Shoot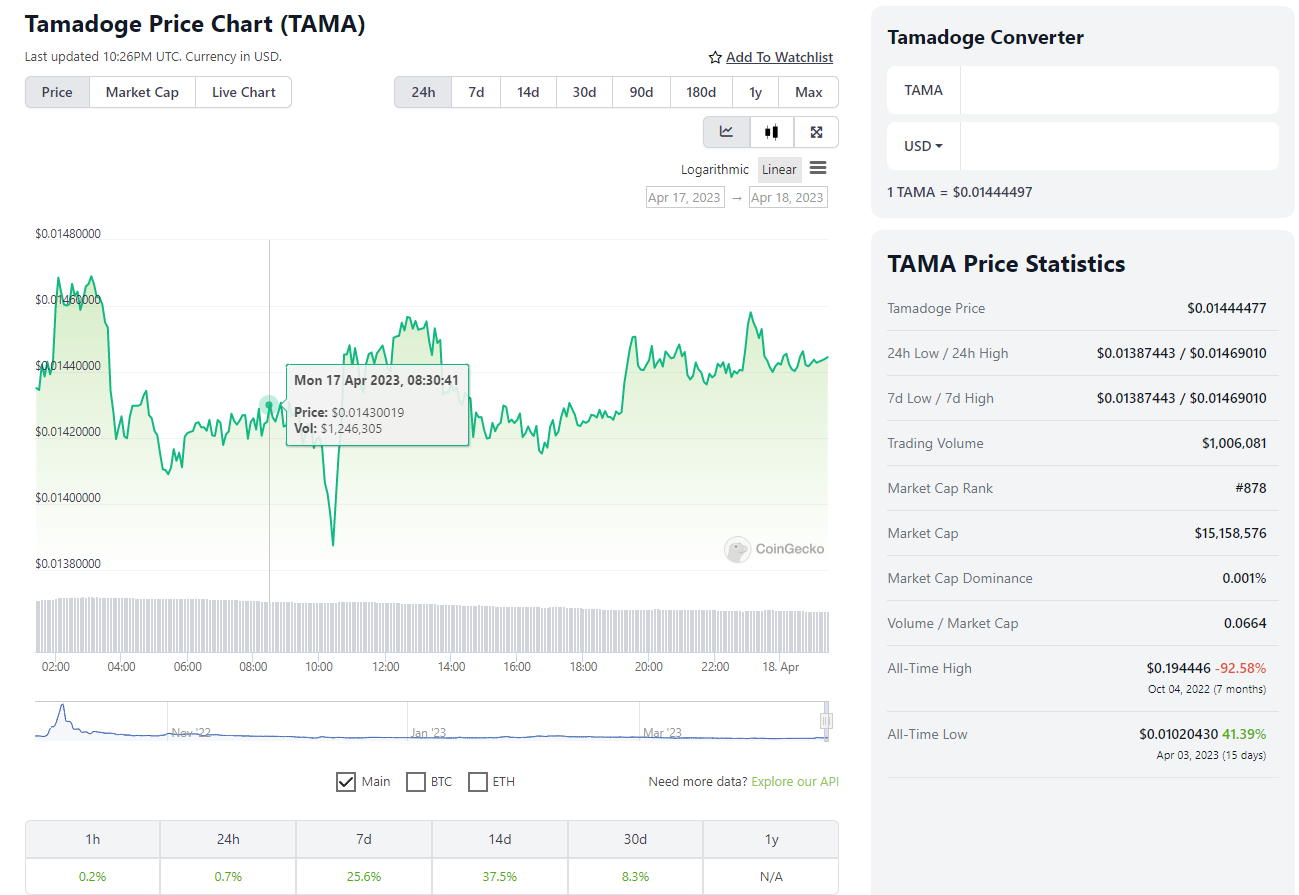 Tamadoge is trading on the OKX exchange at $0.01426, and the token price is up 36% in the past 14 days according to CoinGecko data.
Technical analysis shows that the breakout will be to the upside in the case of Tamadoge. The Exponential Moving Average (EMA) ribbon is compressed, indicating that the market is in a period of consolidation, with neither the buyers nor the sellers having a clear advantage. Finally, Tamadoge has some way to go to get back within touching distance of its all-time high (ATH), but price momentum now has a fair wind.
Tamadoge AR App, Tamaverse Launching this Year
The success of the five play-to-earn arcade games is a teaser for what is to come. Developers are currently working on the Tamadoge AR app. The app will allow players to nurture their Tamadoge pets 24/7 and interact with them in a mixed-reality world thanks to augmented reality (AR) technology.
Players will not need any expensive gear or headgear to use the Tamverse. The app will be readily available for download on your smartphone, and you are ready to experience the game. 
TAMA, is currently listed on 15 centralized exchanges, including OKX, one of the top 10 crypto exchanges, and the popular decentralized exchange, Uniswap.
Related
Love Hate Inu – Newest Meme Coin
Decentralized Polling – Vote to Earn
Early Access Presale Live Now
Ethereum Chain
Mint Memes of Survey Results as NFTs
Staking Rewards
Viral Potential, Growing Community